Reduce appli­cant noise and get to your top rated appli­cants fast.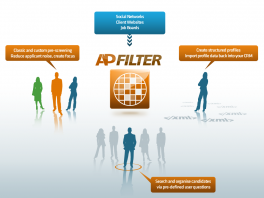 Easy to add sur­veys are deliv­ered to your appli­cants and attached to all your online ads includ­ing job boards, social media and your website.
Apfil­ter comes with a full search func­tion that allows you to build pro­filed data that can be sent back into your CRM, and when used in con­junc­tion with Adpost, Apfil­ter cre­ates a 360º data flow that ensures your most valu­able responses are deliv­ered directly to the place you want to work with them.
Ben­e­fits of using Apfilter:
Find your strongest can­di­dates quickly
Get access to your top rated can­di­dates in sec­onds. Set up fil­ters so that high rank­ing appli­cants are emailed to you imme­di­ately and marked as you want them to ensure you don't miss them — '10/10 can­di­date received for posi­tion X'.
Fil­ter out appli­cant noise
Fil­ter out the grow­ing amount of non-suitable appli­cants. It takes sec­onds for you to cre­ate and sec­onds for the can­di­date to com­plete — the end result is it saves you hours and days to not have to go through 100's of can­di­dates that are com­pletely irrelevant.
Search your appli­cant pool
As Apfil­ter allows you to search by the very ques­tions you your­self set in your sur­veys, you can now search deeper and more accu­rately than ever before. For exam­ple, 'show appli­cants with over 5 years expe­ri­ence' then 'every­one liv­ing within com­mutable dis­tance' and add to that 'all can­di­dates with rel­e­vant pro­fes­sional qual­i­fi­ca­tions'. With 100% accu­racy, ApFil­ter allows you to cre­ate bespoke can­di­date pro­fil­ing like Linkedin or iProfile.
Make full use of your data
Using our API you can grab all the new struc­tured pro­fil­ing data you have on your can­di­dates and use it in your own databases
Increase brand awareness
Apfil­ter is com­pletely cus­tomis­able, allow­ing you to cre­ate screen­ing pages that look like your own web­site, to rein­force com­pany brand­ing, as well as cre­ate links to all your social media, web­sites, mail­ing lists, job alerts and other online initiatives
Apfil­ter saves you time, money and improves effi­ciency. Like all idibu prod­ucts it is fully cus­tomis­able and can be adapted to meet your busi­ness' needs.
Related links: job post­ing soft­ware, advert dis­tri­b­u­tion, appli­cant track­ing sys­tems, CV search, appli­cant screen­ing.